LP Xperi.
An Airy Screen of Light
A mantra at Louis Poulsen has always been that all fixtures must be pleasant to look at – both when switched on and off. In addition, the design of the luminaire when switched off should be so simple and understandable that one could easily imagine what the light is like – when it was switched on. This has contributed to the development of probably one of the world's most admired and inspiring lighting programs from the beginning of the 20th century to the present day.
A common feature in all these designs is the well-thought-out simplicity. No part was allowed to be in the design for decoration, all parts had to have a lighting function. Added to this was the stubborn attitude that any form of glare should be optimally eliminated.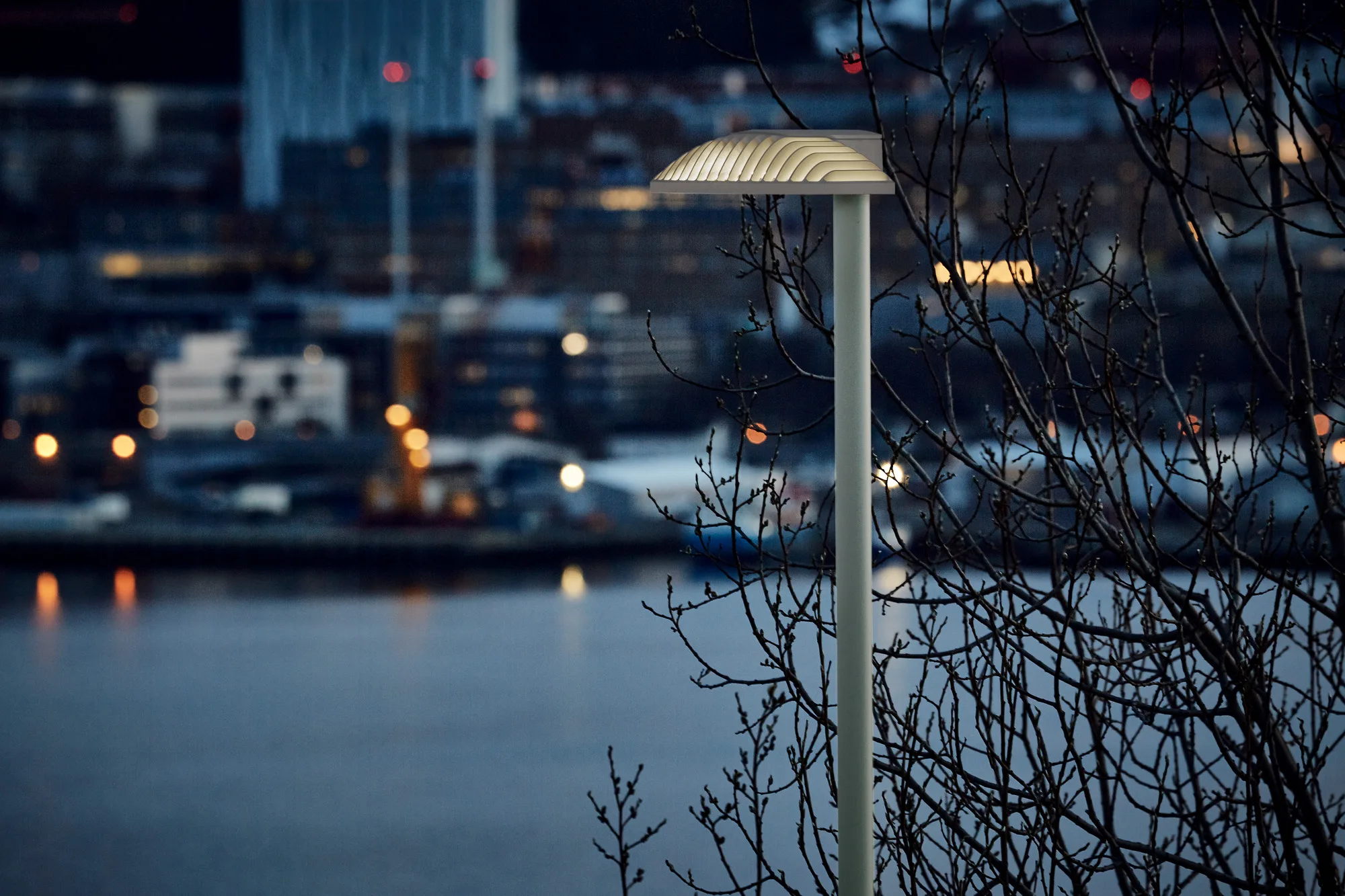 Christian Flindt has embraced this concept and understands how to create lighting fixtures that are both self-explanatory, simple, and all with a unique and extremely comfortable light emission. The focus is constantly on designing a lighting fixture where the light is softly and calmly sent downwards, and he has created this with the help of a vertically laminated screen that reflects the light in the arc. Very similar to the method that Poul Henningsen has often used, for example in PH Artichoke. In this way, he achieves, in addition to the light zone, an upper zone that creates a more diffused light emission, and thus a soft transition to the dark. This also provides a softer entrance to the concentrated light in the central area of the fixture and evens out any luminance jumps.
At Britanny Park, in Miami Beach, FL, the Xperi illuminates the park's grass-lined pathways creating a safe and enjoyable experience for visitors and at the same time highlighting the lush tropical landscape at night.  View the full gallery of the park images here.
When you pass under the fixture during the day, you can look through it and sense the sky. When the fixture is switched on, this is softened by the vertical slats because you don't have a direct downwards reflector to direct the light.
The arc in the fixture is therefore both a design feature, but functionally acts as a reflector based on the arc-displaced vertical slats, which makes LP Xperi a significant fixture, and from below it is a completely transparent fixture, but in a lit situation it changes into a luminous arc with a small decorative light flow that emphasizes the upper design of the lamp head.